The 20 Best Ways To Use Eggs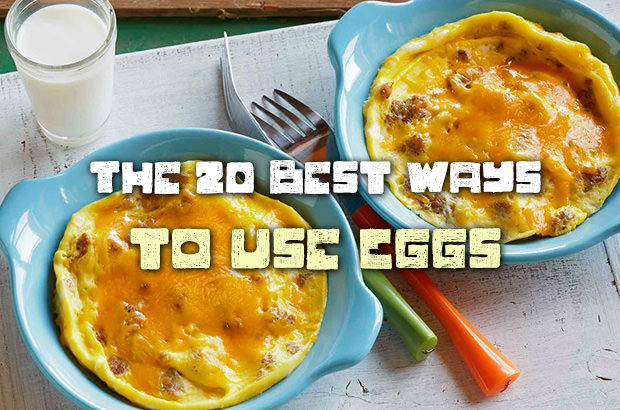 Did you know that eggs can help you lose weight, gain muscle AND keep your appetite at bay? The only problem is that unless you have a limitless appetite for omelets and scrambles, incorporating this protein-packed power food into your diet can get boring. But not to worry: We did the heavy lifting and reached out to nutrition and food experts to bring you 20 tasty and creative ways to enjoy benefits of the incredible egg.
[Related: Are eggs good or bad for you? The final verdict]
1 ON A PIZZA
Prepare your favorite homemade pizza recipe and bake until almost cooked. Carefully crack a few eggs around the pizza and return to the oven until the whites are cooked but the yolks are still just a bit runny.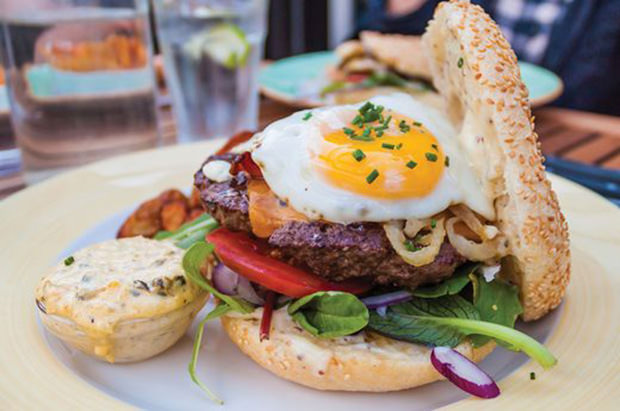 2 ON A BURGER
Skip the mayonnaise next time and top your lean beef or turkey burger with an over-easy egg. If you like a runnier yolk, let it break and run over everything for a gooey and delicious sandwich.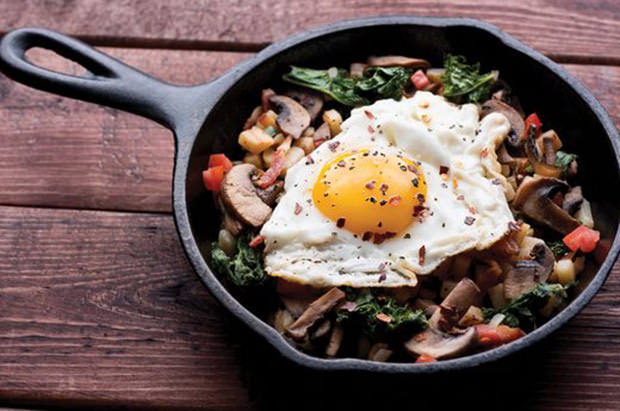 3 KITCHEN-SINK SCRAMBLE
This scramble is the perfect opportunity to clean out your refrigerator without letting anything go to waste. In a pan saute leftover vegetables, meats or leafy greens, and then throw in eggs and cheese at the end. Get creative.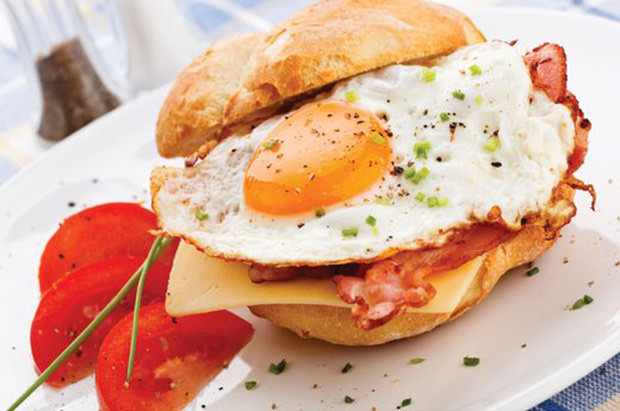 4 BREAKFAST SANDWICH
Using a whole-grain English muffin, Canadian bacon and an egg (or two), you can create a healthy breakfast sandwich that is perfect for people on the go. If you have it on hand, top with a piece of cheese: Cheddar pairs well with Canadian bacon.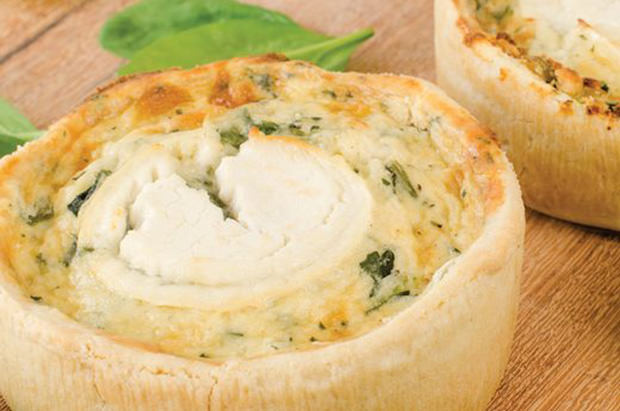 5 QUICHE
Lighten up this often calorie-laden breakfast treat by using whole milk instead of cream and filling it with leafy green vegetables. "For a complete and balanced meal, it's best to combine eggs with whole grains and vegetables," says Nicole Geurin, RD. Make your own whole-wheat crust for an even healthier take on the classic.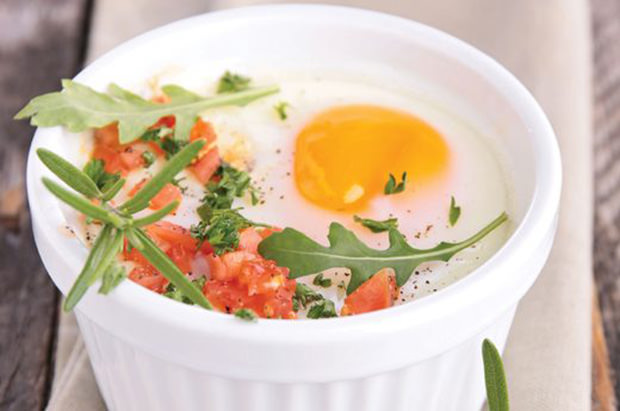 6 SIMPLY BAKED
Crack two eggs into a small, ovenproof ramekin and top with finely chopped vegetables and a splash of whole milk. Bake until whites are set but yolks are still runny enough for dipping. Choose whole-grain toast to make this a perfectly balanced vegetarian meal..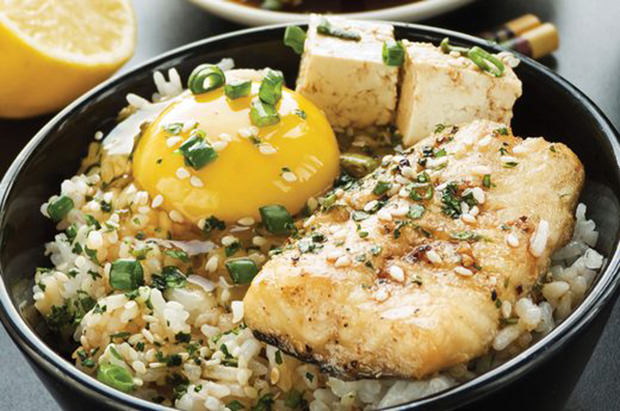 7 FRIED RICE
Stir-fry chopped broccoli, bell peppers and carrots in oil until softened, and then add a few beaten eggs. Add leftover fried rice (or just make brown rice of your own) to the mix and cook until everything is golden. Add soy sauce and sesame oil to finish.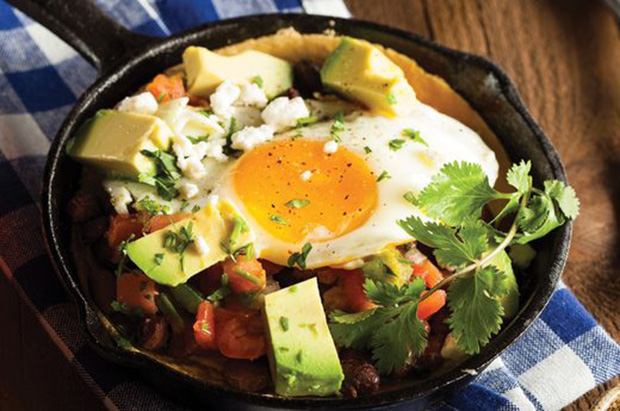 8 HUEVOS RANCHEROS
What's not to love about two fried eggs covered with salsa and served over corn tortillas? Literally translated to ranch-hand eggs, this hearty breakfast staple offers a host of healthy benefits from the tomato salsa, whole-grain tortillas and the good fats in the eggs.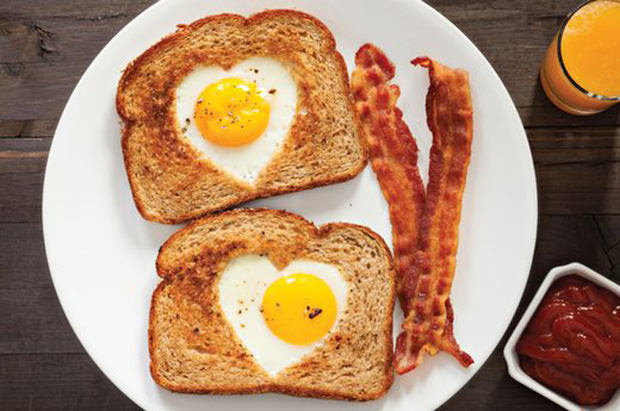 9 BIRD IN A NEST
Also called Toad in a Hole or Egg in a Basket, there's something reminiscent of childhood about this dish. Simply cut a hole in a piece of whole-grain bread, place the slice onto on a hot skillet with oil and crack an egg in the center hole. Flip when the first side turns golden.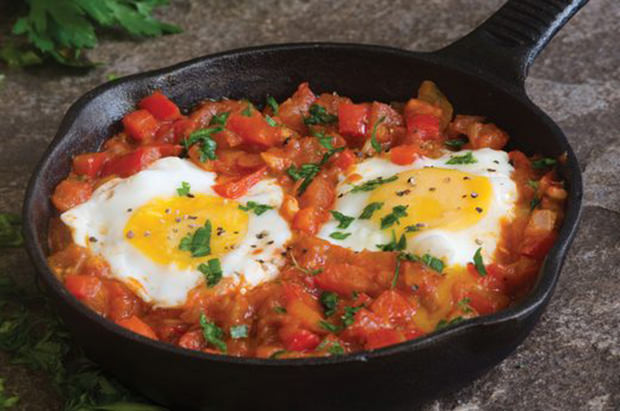 10 SHAKSHUKA
The name sounds exotic, but this Arabic dish is simple to make and offers hearty flavor and a healthy dose of essential nutrients. Tomato sauce made from fresh or canned tomatoes, onions, garlic, peppers and a generous sprinkle of cumin and hot pepper flakes creates a bed in which to poach eggs. Add eggs to the sauce in a large, wide pan, then cover until cooked. Combining eggs with lycopene-rich tomatoes packs a nutritional punch.Spoon the mixture over brown rice or whole-wheat couscous for a complete meal.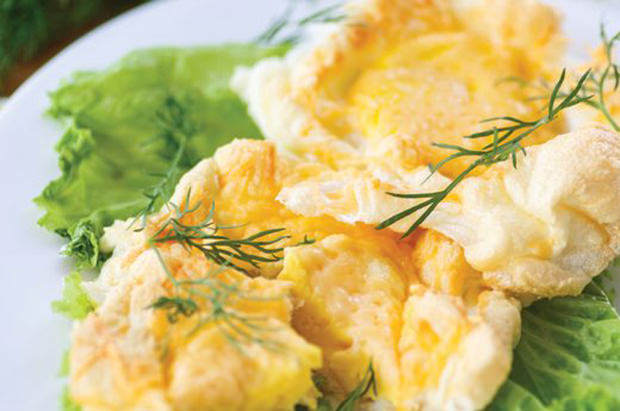 11 EGG IN A CLOUD
It seems simple enough, but this dish makes the most of the humble egg's prowess. A cloud-like bed made from the beaten whites is filled with the buttery, rich yolk for an offbeat brunch or lunch presentation. It starts with some vigorous whipping until the whites form stiff peaks and then dollop them onto thin pieces of whole-grain toast. Create a "well" within each one and carefully slide the yolks in. Sprinkle lightly with salt and pepper, and then bake until the meringue is lightly golden and the yolks are just set.
12 EGG SALAD
Lighten up this deli standby by using mashed avocado in lieu of mayonnaise. Add a generous squeeze of lemon juice and chopped fresh herbs and spread between two pieces of whole-grain toast for fiber. Avocado gives this old-fashioned favorite a new twist and a dose of heart-healthy fat.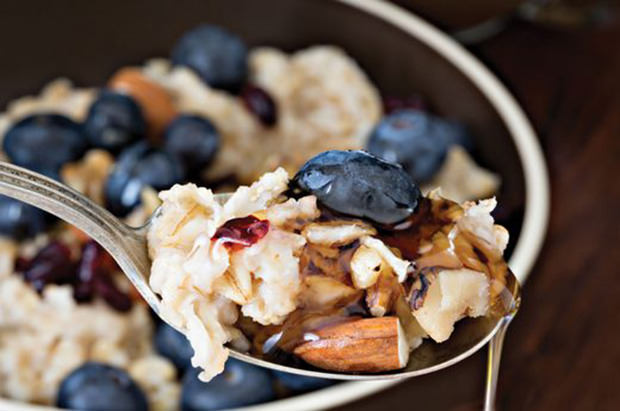 13 OATMEAL
Add extra protein to your morning oats by stirring in a lightly beaten egg as the oatmeal is cooking. Oatmeal contains protein, but it's easy to give it an additional boost with an egg. It thickens it up nicely too. Top with a drizzle of pure maple syrup, a half-cup of blueberries and a handful of chopped walnuts for a one-bowl morning meal.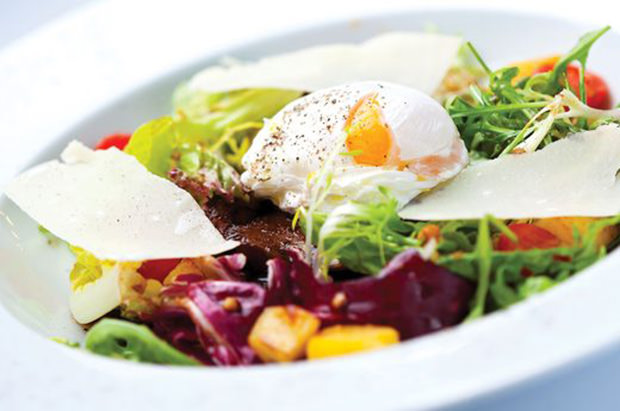 14 POACHED ON A SALAD
Top your usual mixed greens and vegetables with two poached eggs. You don't even need salad dressing: Simply drizzle with lemon juice and break the yolk open to create a tasty topping.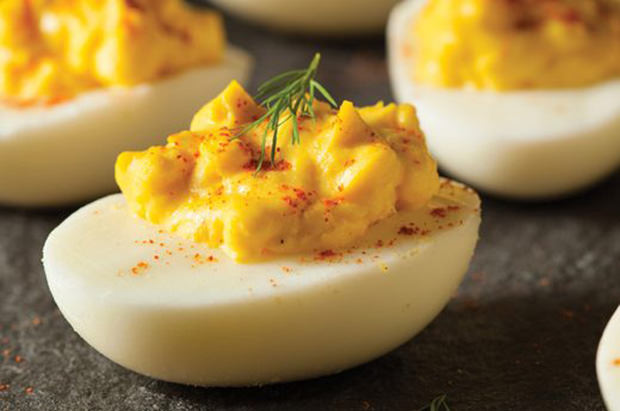 15 DEVILED
Hard-boil a few eggs, slice in half and scoop the yolks into a small bowl. Mash with a generous dollop of nonfat Greek yogurt instead of mayo and add a dash of smoked paprika or finely chopped fresh herbs. The Greek yogurt provides extra protein and calcium.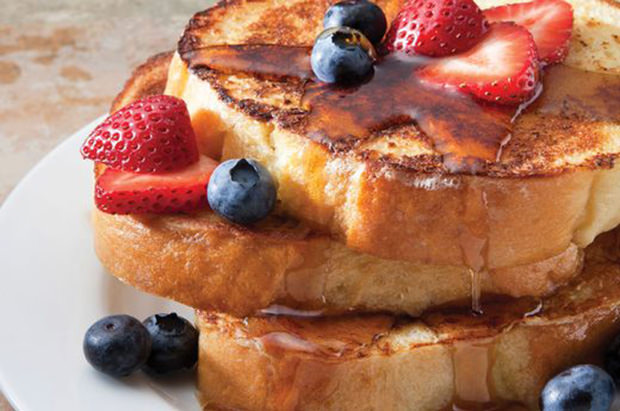 16 FRENCH TOAST
Research suggests including some protein-rich foods at breakfast can help keep you satisfied until lunch. Eggs are an excellent source of high-quality protein. Dip two slices of whole-wheat bread in two beaten eggs and a splash of nonfat milk, allowing the bread to absorb the egg mixture. For a sweet version, drizzle with pure maple syrup or go savory by adding salt and pepper to the beaten egg and cook in extra-virgin olive oil. Top with sliced tomatoes or a light dusting of grated Parmesan cheese.
17 IN SALAD DRESSING
Add flavor and texture to salad dressing by finely chopping a hard-boiled egg and adding it to a simple vinaigrette. Place the chopped egg at the base of a medium bowl and add the juice of a quarter of a lemon, a small dollop of Dijon mustard and salt and pepper. Whisk in extra-virgin olive oil to taste.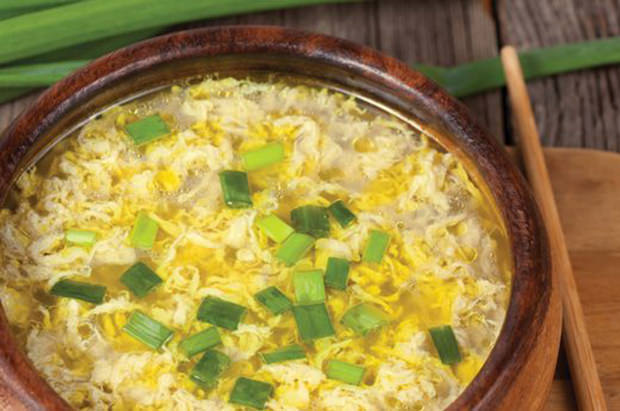 18 IN SOUP
Bolster your broth by adding a beaten egg. Avgolemono, a Greek lemon-and-egg soup, and Chinese takeout standby egg drop soup both rely on eggs for the body and flavor of the broth.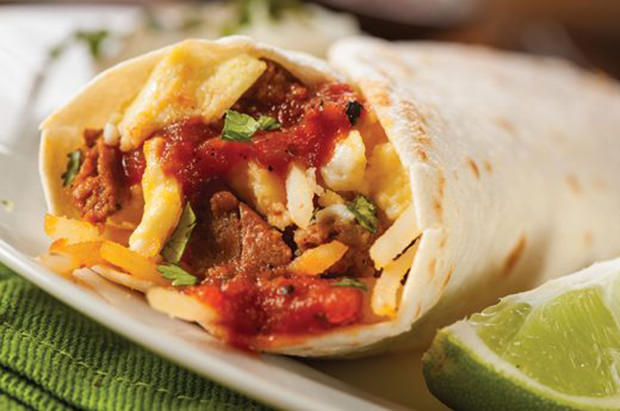 19 BREAKFAST BURRITOS
Fold scrambled eggs, a few slices of turkey bacon, salsa and a few tablespoons of grated low-fat cheddar in a whole-wheat burrito for a delicious breakfast (or lunch or dinner) that's quick and simple. Pre-chop peppers, onions and spinach to make it easy to throw into the eggs while they cook. This adds an extra dose of vitamins and fiber.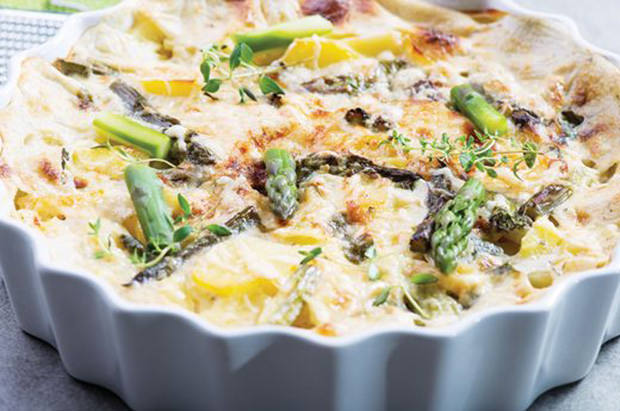 20 FRITTATA
This Italian egg dish is the perfect clean-out-the-produce-drawer recipe. Just chop veggies and saute in olive oil in an ovenproof skillet until tender. Add beaten eggs and top with a handful of grated low-fat cheese. Cook on the stovetop until eggs just begin to firm up around the edges, then broil until the top is golden brown. Cut into wedges and serve with salad.
WHAT DO YOU THINK?
Do you love eggs? What are some of your favorite ways to eat them? Do you have any tips or recipes? Share with us in the comments below.
Some Other Things You May Like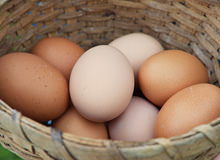 Why Eggs Are Considered A Superfood
Are eggs good or bad for you? The final verdict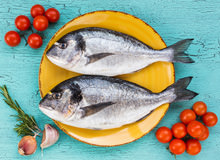 7 Reasons to Consider a Pescatarian Diet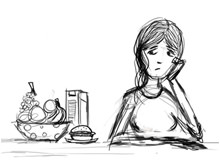 See What Really Happens to Your Body When You Skip a Meal